EXPERIENCE THE NEW GENERATION OF TRUE WIRELESS
THE PRESS ABOUT the PurePlay Z5
"Exceptionally good for the price and well worth seeking out as an affordable option."
"Lypertek seems to have had yet another success. Z5 is a really good and capable earphone. I wish good luck to its competitors because they are going to need it."

"Lypertek knows how to make a good TWS and the Z5 is another good one. It offers above-average sound quality, a good set of features, a full-featured app, decent battery life, and an ANC that works well enough at a price that won't leave a large hole in your pocket."
"The Lypertek PurePlay Z5 raise the bar in the category of true-wireless headphones priced between 100 and 150 euros. In addition to convincing sound performance, these headphones scored points for their cutting-edge technical features which include effective noise cancelling and a user interface that should be an inspiration to the competition."
On Sale
Lypertek PurePlay Z5 - True Wireless Earphones powered by LDX™ Audio with PureControl ANC App and Hybrid ANC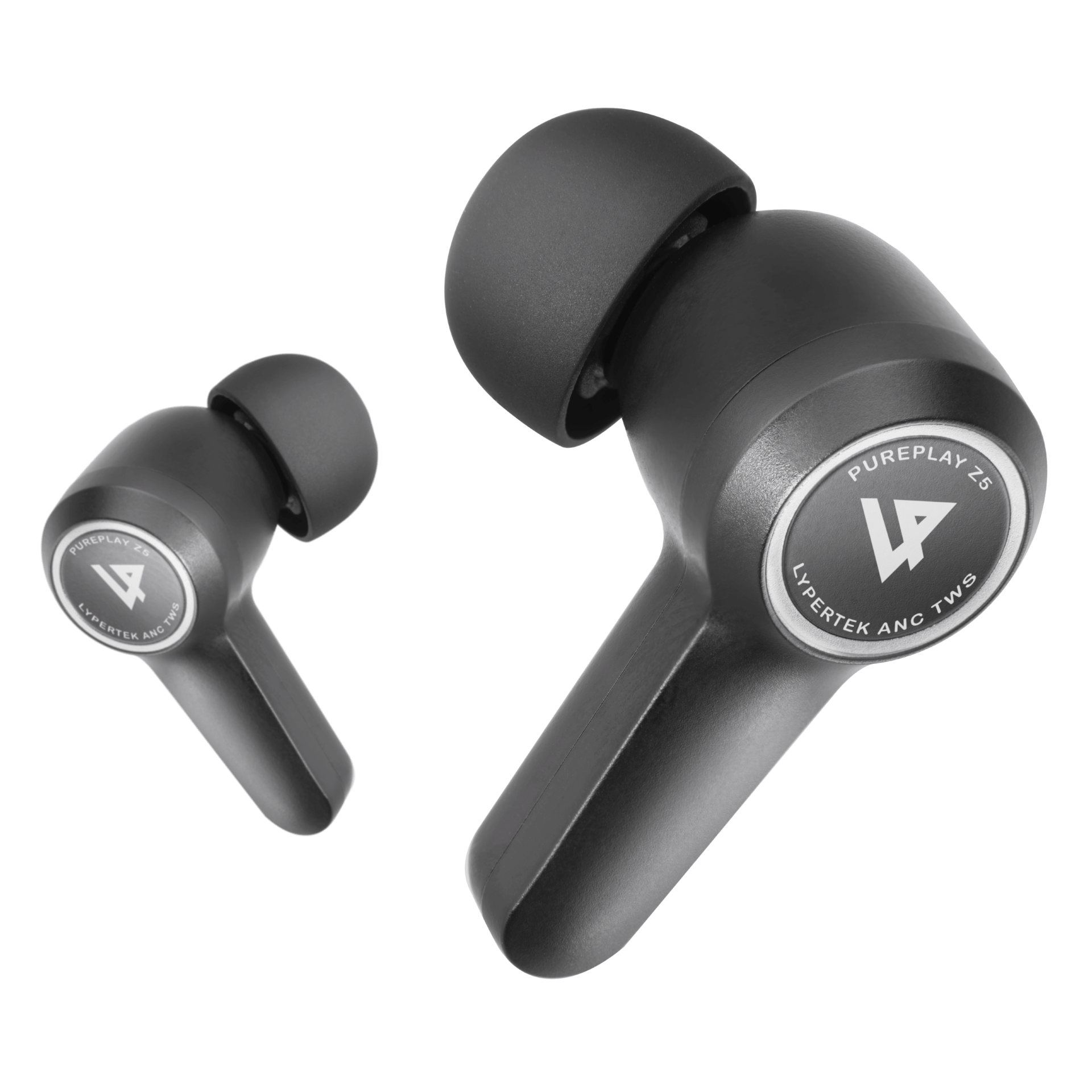 FOR A LIFE LESS COMPLICATED

Enter the Lypertek PurePlay Z5, the latest addition to our successful true wireless earphone range, this time featuring hybrid active noise cancelling technology and exclusively designed PureControl ANC app. Take control of your listening with advanced features such as LDX™, Ambient mode feat. Auto-Ambient™, 7-band EQ with thoughtfully developed presets, fully customizable touch controls, setup assistant and more.
Powerful 10mm dynamic drivers in the PurePlay Z5 deliver distortion-free sound even at high volume levels, setting a new standard in what can be achieved in the world of affordable true wireless audio: Deep bass that goes low with controlled authority. Mids that provide insightful clarity with richness and emotion. Treble that effortlessly extends far, creating space and definition in a way that sounds as natural as real life.
HYBRID ANC - hear what you want
The integrated hybrid active noise cancellation technology of the PurePlay Z5 makes use of dedicated microphones that significantly reduce the amount of external noise for distraction-free listening. Powered by the exclusively developed PureControl ANC app the PurePlay Z5 creates a complete truly wireless listening experience.
PureControl ANC App feat. LDX™ AUDIO
The PureControl ANC app for iOS and Android unlocks the full potential of the PurePlay Z5. LDX™ audio mode provides an easy to select sound profile specifically designed for the PurePlay Z5 - taking the already impressive sound to a new level, with added impact, energy and width for those who desire more. Additional features include a professional grade 7-band EQ with carefully designed presets, fully customizable touch control mapping, Find My Earbuds and a setup assistant that helps you to get started in seconds.
Discover the story behind our first ANC True Wireless Earphones.
Hybrid ANC & Auto-Ambient™

Hybrid Active Noise Cancelling significantly reduces the amount of audible outside noise for distraction-free listening while Ambient mode allows you to hear the world around you without removing the earphones. To take things a step further Lypertek designed and developed Auto-Ambient™: a brand new feature which reduces the need to interact with your earbud controls – automatically activating Ambient mode when you stop or pause audio playback. Effortlessly become aware of your surroundings, and then resume playback to switch back to your preferred listening mode.
Complete Sound Experience

Flawlessly tuned 10mm dynamic drivers set new standards in what is possible for true wireless earphones. Balanced sound, with deep powerful bass that extends in a wide sound image with no distortion even when listening at higher volume levels. Enjoy crystal clear call quality thanks to cVc 8.0 powered microphones with noise suppression and echo cancellation.
The PurePlay Z5 earphones have been designed with extreme comfort and stability in mind, and to further enhance this, meticulous attention has been applied to the selection of eartips provided – a vital accessory that too often gets overlooked. With an extensive assortment of PurePower™, PureSpace™ and PureComfort™ silicone and foam tips that provide perfect fit and the best possible sound - you can be sure to find your ideal listening experience.
Superior Battery Performance

The PurePlay Z5 offers a playtime of up to 7 hours (4 hours with ANC switched on) on a single charge. This can easily be extended up to 35 hours with the ability to charge the earbuds on the go with the supplied charging case. For maximum convenience it also supports high-speed wireless charging and Fast Charge providing 2 hours playtime with only a 15 minute charge.
PureControl App & LDX Audio™

The PureControl app offers access to the high quality 7-band EQ, LDX Audio™ mode, Hear Through mode, button customization, Find My Earbuds and much more. The new LDX Audio™ mode adds a new dimension to the listening experience with a designated audio profile developed specifically for the Z7. Available for iOS and Android.
▶ ▶ ▶
Next Generation Wireless Sound

The new PurePlay Z7 follows on the huge success of our first true wireless release - the award-winning PurePlay Z3 - offering an updated design, improved set of features and for the first time ever; triple-hybrid-driver technology delivering audio unlike any other true wireless.
▶ ▶ ▶
To make sure the PurePlay Z7 earphones are always ready for action they provide 10 hours playtime on a single charge and with the included fabric case, the PurePlay Z7 earphones can be charged a further 7 times extending the full playtime to 80 hours.
▶ ▶ ▶
Easy Control & Hear Through Mode

Easy to use buttons on the PurePlay Z7 helps avoid accidental button presses and prevents the need to push onto the earphone; PurePlay Z7 also uses this button to activate Hear Through mode and voice assistance.
▶ ▶ ▶
Lypertek PureControl ANC App feat. LDX Audio™
Lypertek Definition Expander - unleash the power of the PurePlay Z5

Download now on Google Play or on Apple's iOS App Store
Headfonia celebrates the Z7 with their 'Recommended Buy' Award
"Once again, Lypertek didn't disappoint me with its excellent sound quality, long battery life, stable connection, and comfortable fit. It is a great TWS that is tuned to impress audiophiles who want more on the go."
Gamesky released an in depth review about the PurePlay Z7

"...It's one of the best sounding pairs on the market. I would put it up against the Samsung Galaxy Buds Pro, the Airpods Pro, Sennheisers and even the new Sony WF 1000 XM4...
Forbes Magazine Examines Lypertek True Wireless Earphones

"The Z7 are superb-sounding mid-price true wireless earphones and are well worth auditioning. Highly Recommended."
FEATURES
Hybrid Active Noise Cancelling technology
PureControl ANC App for Android and iOS feat. LDX™ audio, Ambient mode, 7-band EQ, fully customizable touch controls and more
High performance 10mm drivers deliver premium sound with engaging sound image and powerful bass control
Three microphones on each earbud with cVc 8.0 echo cancellation and noise suppression for enhanced call quality
Carefully tuned for extended listening sessions without ear fatigue
Bluetooth 5.2 with SBC, aptX, aptX Adaptive and AAC
Wide assortment of silicone and foam tips provide perfect fit and best possible sound experience
Up to 7 hours total playtime on a single charge + 28h via charging case
Supports high-speed wireless charging and Fast Charge (15min. charging = 2h play time)
IPX4 water-resistant design provides protection from rain and sweat
Optional Lypertek wireless charging pad available separately
PACKAGE INCLUDES
Lypertek PurePlay Z5 True Wireless Earphones in Black
Charging case
PureSpace™ Silicone Tips in XS, S, M, L, XL
PurePower™ Silicone Tips in S, M, L
PureComfort™ Foam Tips in S and M
USB Type-C cable
Quick start manual
TECHNICAL SPECIFICATIONS
Driver: 10mm Dynamic
Frequency Response: 20Hz - 20kHz
Microphones: triple mic setup for Hybrid ANC and cVc 8.0 (clear voice capture)
Bluetooth Specification: Bluetooth 5.2
Supported Codecs: aptX/aptX Adaptive/AAC/SBC
Play Time (Max): 7 hours with ANC off (4 hours with ANC on), 35 hours (with case)
Waterproof Level: IPX4
Features: Music control, volume control, phone calls, voice assistant, Ambient mode, Auto-Ambient™, LDX™ audio, 7-band EQ with dedicated presets, setup assistant, Find my Earbuds